Christian Science Nurse Service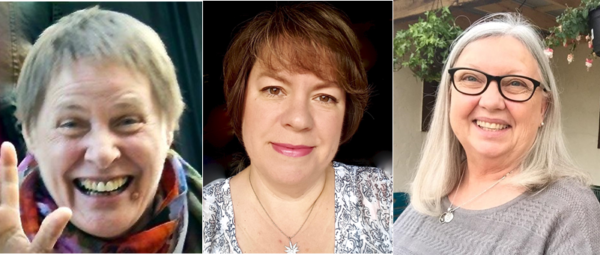 What does a Christian Science nurse do?
Christian Science nurses provides non-medical physical care for those relying on Christian Science for healing and help maintain a spiritual atmosphere conducive to that healing. The care they provide includes bathing, cleaning and bandaging wounds, nourishment, assistance with mobility, and newborn and new-mother care and support. Some equipment is available for short-term loan, such as canes and walkers.
Do Christian Science nurses have training?
All Christian Science nurses are trained. Mary Roadman, the Houston Visiting Christian Science Nurse, trained for three years at Tenacre Foundation in Princeton, New Jersey. Her experience includes working in Christian Science nursing facilities, visiting nurse services, and private-duty nursing.
How can I reach the Houston Visiting Christian Science Nurse?
If you are in need of Christian Science nursing services, please call (713) 304-8384 or email hvcsns@comcast.net. The cell phone number is active 24/7. If unanswered, it is most likely that the nurse is with a client, so please leave a message.
What is required when using a Christian Science nurse?
Someone requesting Christian Science nursing care must be relying exclusively on Christian Science treatment and be working with a Christian Science practitioner. If the client is under 18, a Christian Science practitioner currently listed in The Christian Science Journal is required.
How long does a Christian Science visiting nurse stay?
The length of the visit is flexible when meeting an immediate need, but most calls are not longer than two hours. In emergency situations, overnight care can be provided. If a longer visit is requested and home care is appropriate, the Christian Science nurse may provide contact information for a private-duty Christian Science nurse or aide.
How much does the Houston Visiting Christian Science Nurse Service charge?
The service does not charge, though nursing-care supplies and/or groceries are paid by the client. Donations from clients and other individuals are greatly appreciated. If you would like to make a donation to the nursing service, please send it to:
Houston Visiting Christian Science Nurse Service
1834 Columbia St
Houston, TX 77008
To donate online, please click on the PayPal link below.
What if I've never called a Christian Science nurse before and am unsure?
A friendly visit just to meet our Christian Science nurse and learn about the service might be a good idea. All your and your family's questions can be answered at this time. Your branch church could also host a short informational session with the Houston Visiting Christian Science Nurse Service, which is a great way to share information.
Houston Visiting Christian Science Nurse Service Newsletters:
December 2017 Newsletter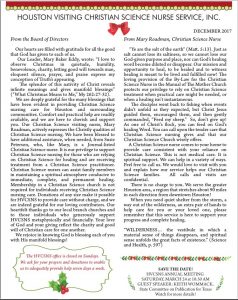 June 2016 Newsletter
More information
For more  information about Christian Science nursing and care services, please click on the links below.